Meet Dr. Megan Kennedy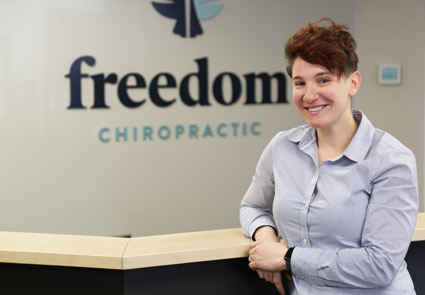 Dr. Megan Kennedy, DC joined the team at Freedom Chiropractic in February of 2019. She attended Lewis-Clark State College, located in her hometown of Lewiston, ID where she earned her Bachelor Degree in Kinesiology. Following undergrad she moved to Portland, OR to attend the University of Western States and received her Doctorate of Chiropractic, as well as a Bachelors in Human Biology and a Masters in Sports Medicine.
Passion for Health
Dr. Megan is passionate about educating individuals and families on how to take their health into their own hands. Her goal is to help patients' become their own doctor and live happy and healthy lives. She sees that every person has an athlete within and knows if she can facilitate health and healing that inner athlete can be tapped in to. She loves the hands on and whole body approach to healing and educating through chiropractic care and the 5 Essentials.
CHIROPRACTIC CARE »

Outside the Office
Dr. Megan is always exploring new opportunities for growth and improvement as a doctor and health care provider for her community. When she is not in the office serving patients or in the community educating she enjoys hiking, biking, snowboarding, camping and her favorite weekend activity, golfing, with her husband Kory. The Kennedys and their dogs Maverick and Charlie have lived in Colorado Springs since December 2018 and have enjoyed making it their home.
Contact Freedom Chiropractic today.

Dr. Megan Kennedy | (719) 533-0303