Meet Dr. William Gillham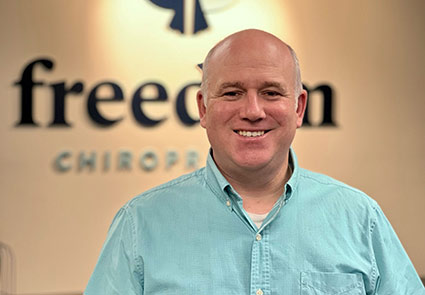 Dr. William Gillham joined the Freedom Chiropractic team in August 2022 after being in practice in Colorado Springs for 13 years. He attended BYU and earned his Bachelor's degree in Microbiology. He and his wife then moved to Seneca Falls, NY to attend Northeast College of Health Sciences to achieve his Doctorate of Chiropractic. After graduation in 2007, the Gillham Gaggle packed up and headed to Colorado to start a new adventure!
A Life-Changing Experience
In high school, Dr. William suffered a severe injury to his neck while wrestling and sought chiropractic treatment for the first time. This healing experience, along with encouragement from his chiropractor, inspired Dr. William to pursue a career as a chiropractor.
Dr. William strives to provide the best care possible for each patient by creating and providing individualized treatment best suited for that patient.
CHIROPRACTIC CARE »

Outside the Office
Dr. William spends his spare time with his wife and five children playing games, going on walks, baking, reading, and playing sports.
Contact us today to book an appointment!


service Colorado Springs CO | (719) 533-0303
Dr. William Gillham